Northern Michigan is a wedding mecca. Lake Michigan coastline and charming lakeside towns border this wedding-destination paradise, filled with vineyards, cherry orchards, and picturesque antique barns. The area's natural environment is why couples are drawn to host their wedding here. It is also why it is so crucial to consider a wedding's impact on that very   environment during wedding planning. The average U.S. wedding produces 400-600lbs of garbage and 66 tons of carbon dioxide emissions. In just one day, a wedding produces the equivalent emissions 4-5 people would produce in an entire year.
Fortunately, there is a growing movement to make more eco-friendly choices in wedding planning, and it is being championed by some of Bay Area Recycling for Charities best wedding and event planning partners: Cammie Buehler at Epicure Catering and Cherry Basket Farm, Alicia Fritz at A Day in May Event Planning and Design, and Kendall Rose at The Revel Rose.
Together with these partners and our Zero Waste Event services BARC reduced waste at dozens of weddings and special events in 2018. We put our heads together to round up our best tips for reducing waste at weddings without impacting the quality of your guest's experience
1. Don't just make a set-up plan, make a tear-down plan too.
Weddings generate a lot of "stuff"—from your rehearsal dinner to the day-after brunch—countless cups, programs, table cards, linens, food, and decorations of all kinds pile up. Understandably, when you plan your wedding you are focused on making the best experience for your guests, not your wedding's waste stream. However, planning ahead of time for tear-down will help avoid that moment when you, your family, and your vendors are exhausted at the end of the night, staring at the aftermath, wondering whose responsibility it is. Part of BARC's zero waste event service is overseeing the entire waste stream of the event, including handling any waste at the end of the event.
 Consider every single object that you will bring to your venue and ask yourself, "what will happen to this object at the end of our wedding night?" Often things that could be responsibly recycled, composted, or reused are thrown away at the end of the night out of convenience. Making both a "set-up" and "tear-down" plan goes a long way to reduce unnecessary wedding waste.
2. Go "reusable" wherever possible.
At BARC, we are recycling and waste management experts, but we always recommend going reusable before going recyclable or compostable. The best-case is that you are using decorations, dinnerware, glassware, etc. that can be washed and reused. Often couples choose to rent reusable dinnerware and linens. Rental companies often require that the dishes be cleaned before being returned. Even when you are using reusable products, a waste management company like BARC can help clean those items, avoid any rental loss or damage fees, and ensure the food waste is responsibly. And, if you do choose to have disposable items at your wedding, choose compostable items.
3. Keep your guests hydrated, sustainably.
Convenience is often king at big events like weddings, but small tweaks can make a huge difference in waste reduction. For example, instead of providing your guests bottled water, request that that your caterer provide a hydration station with reusable compostable cups where guests have easy access to water. Additionally, if you choose to offer straws to guests, offer paper straws rather than plastic.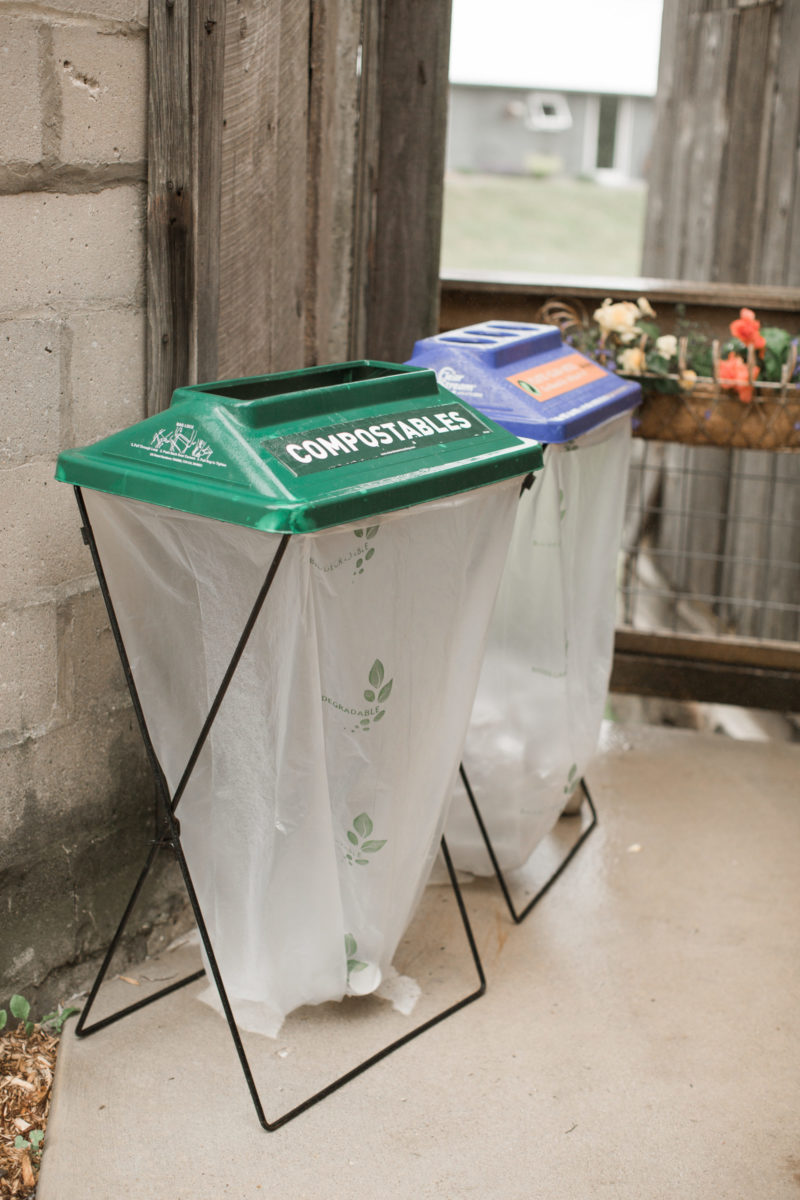 4. Have a recycling/food waste/compost station.
Make it easy and clear for guests to know where to dispose of recyclables, food waste, and compostable products with clearly marked waste receptacles like the receptacles BARC offers through our zero waste event services. Often people are happy to dispose of waste responsibly, it just needs to be convenient.
5. Choose a local caterer that supports local farms and food.
Since Northern Michigan is an agricultural region, there is no shortage of wonderful local ingredients for your wedding food, especially for a summer or fall wedding. Consider the season and choose a caterer/venue that prioritizes sourcing local ingredients (such as Epicure Catering, who sorts food waste and gets it to pigs and chickens for food) to support local farms and minimize waste. Choosing local food is often more expensive than the alternative, but you can experience and taste the difference.
6. Chose meaningful, useful favors.
Ditch the old bottle of plastic bubbles and choose something meaningful and useful instead. We recommend avoiding plastic favors or favors wrapped in plastic. If you want to have a favor that's wrapped in something, wrap it in a paper bag or something else that is bio-degradable. If you choose to offer favors, we recommend a locally-made edible favor, such as a local jam or honey in a recyclable glass jar.
If you are considering a favor the guest can use for that night only (such as plastic flip flops for the reception) think again. Instead, consider putting a note on your invitations or wedding website encouraging guests to wear comfortable shoes rather than providing plastic flip flops.
7. Compost flowers and greenery.
Many couples choose to keep or gift their floral decorations, which is a great option for reuse. However, when hosting a destination wedding it can be hard to find a home for all the flowers. As part of your event tear-down plan, consider composting your flowers and greenery rather than throwing that waste in a landfill-bound trash can.
These are just a few ways to host a greener wedding in Northern Michigan. If you are planning a wedding, check out our Zero Waste Events services and the wedding planners and caterers mentioned in this post who are making waste reduction a priority in their services as well.