Here at BARC, we love a good party. Getting together with friends and family to celebrate big or small life moments like getting married, cheering on your favorite football team, or observing a holiday is what makes life special.
However, we like to party smart by ensuring our negative environmental impact is minimal. By throwing a zero-waste event with BARC or following our eco-friendly party tips, you can join us on our mission to inspire an environmentally conscious culture in Northern Michigan and beyond!
How to Have a Sustainable Wedding
After getting engaged, it's easy to feel overwhelmed by the process of actually getting married. Planning and executing a wedding takes a village. However, if you choose your villagers wisely, you can have a sustainable wedding and minimize post-wedding cleanup!
Eco-Friendly Wedding Planning
You can do several easy things in the planning stage of your wedding to make it more eco-friendly. First, try to hire local vendors with eco-friendly values if applicable. Also, try to avoid buying tons of supplies from Amazon or other huge companies with no eco-friendly policies.
Pick a Sustainable Wedding Venue
When picking your venue, try to keep it local because destination weddings require a lot of extra traveling and carbon emissions that could be avoided. Also, look for a venue that uses renewable energy if that's something available in your area. If that's not possible, try to choose a beautiful location that won't need a ton of decor!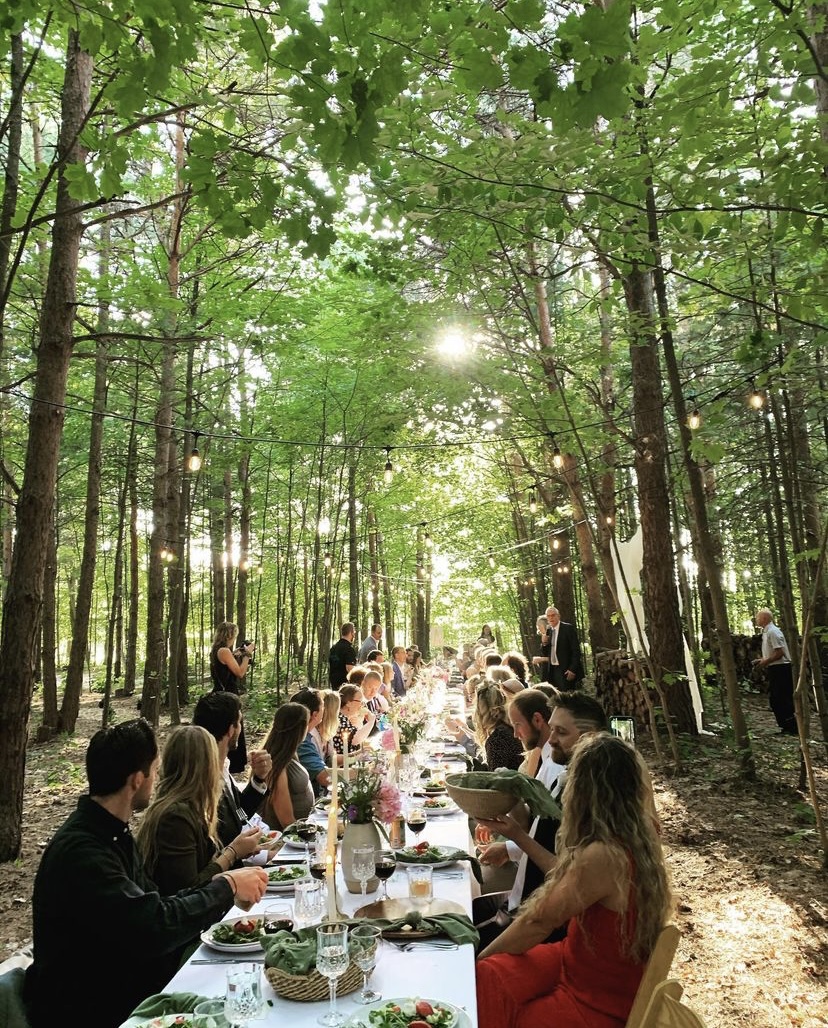 Opt for Eco-Friendly Wedding Flowers & Decorations
Flowers are an essential part of wedding decor, so we recommend picking flowers that are in season and locally grown so you can cut down on backend shipping emissions. One great way to be green is to use live plants as centerpieces which also make great party favors!
Wedding decorations can be a considerable expense for your wedding and an even bigger waste after the event. We recommend renting decor or looking at second-hand stores for cute decorative vases, mirrors, etc. For confetti, we recommend using bubbles, flowers, or any other biodegradable option so you can leave no trace. In addition, decorating with things you find in nature, like pine cones, branches, wildflowers, and fruits is a great option.
Select Sustainable Food & Drink Choices
The food and drinks at your wedding are a vital aspect of a wedding celebration. Opting for real utensils, dishes, and cloth napkins which you can usually rent from the caterer, is a great option. If you are doing a backyard wedding, choosing compostable cutlery and straws is a good swap to avoid cleaning tons of dishes. We also recommend choosing a farm-to-table caterer to keep everything as local as possible. In addition, serving food family style instead of individually plated meals helps minimize food waste. Choosing a primarily vegetarian menu is also a great way to reduce your carbon footprint.
For the bar, kegs are a more sustainable option than bottled beer because you can return them to the brewery. We also recommend selecting local breweries, wineries, and distilleries for your wedding to reduce travel emissions. Plus, if you are local to Northern Michigan, we have some of the best breweries and wineries in the nation, so you can't go wrong!
Choose Green Clothing Options
Wedding clothing can be wasteful for those who only plan to use them once. We recommend buying a used dress or donating your dress after your wedding to offset this! Renting groomsmen suits and bridesmaids' dresses are also great options for reducing textile waste.
Throw a Green Tailgate
September is the start of tailgate season, and we couldn't be more excited! However, tailgates can cause a lot of excess waste if not executed properly. Luckily, there are many little ways to make your tailgate more sustainable!
Create a Recycling Station
Creating a recycling station at your tailgate is a great way to make it easy for your crew to sort their waste. If you compost, you can set up three stations, one for landfill, one for recycling, and one for compost. This will help you be more green while also keeping your tailgate clean!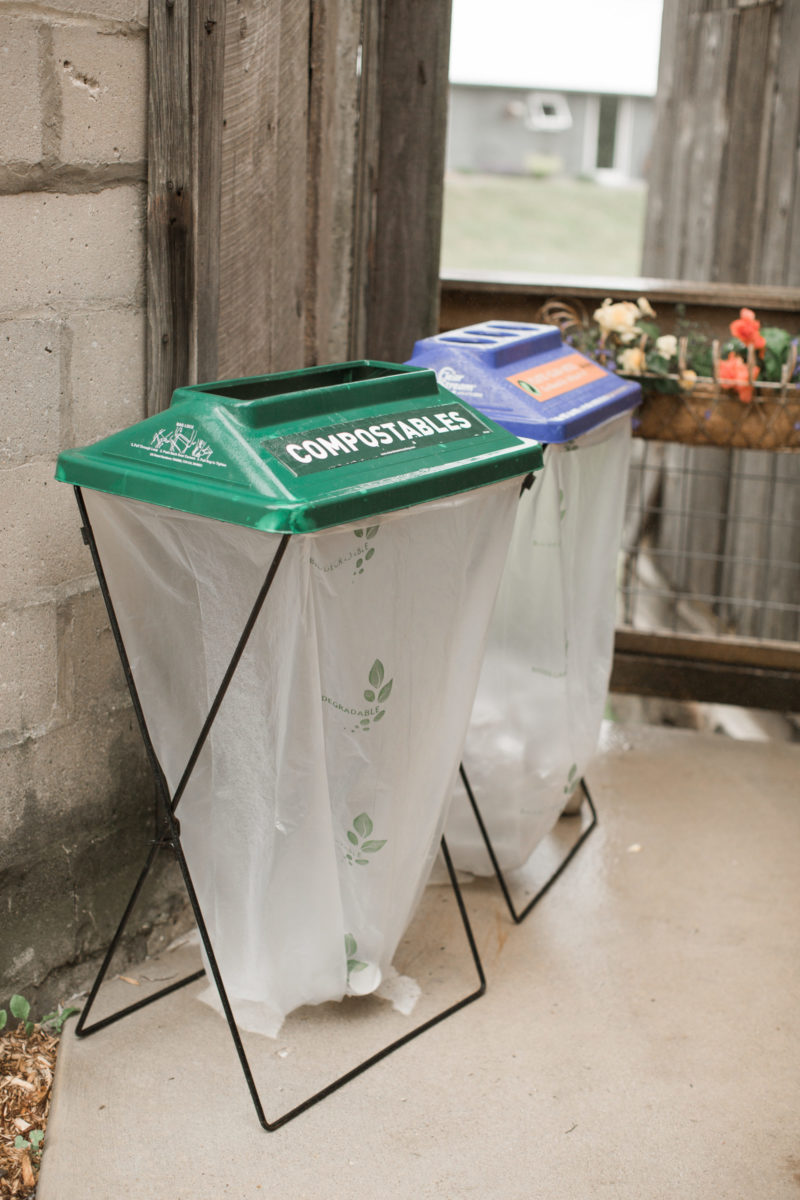 Eco-Friendly Food Options
When you think of tailgates, foods like burgers, hot dogs, and chicken wings probably come to mind. Unfortunately, the meat industry is very unkind to the environment. We recommend trying to do less meat by opting for more fruits, veggies, and non-meat proteins. If you want to buy meat, heading to a local butchery is a better option!
Use Compostable Serviceware
Compostable cutlery, napkins, straws, and plates are a great way to minimize unnecessary waste at a Tailgate. However, if you don't mind the extra clean-up, using real serviceware is always the best option.
Thrift your Game Day Gear
Instead of buying new game day gear yearly, you can always look in second-hand marketplaces for college merchandise. This way, you can look stylish without adding to textile waste.
Boxed Water over Bottled
Single-use plastic water bottles are terrible for the environment. We recommend choosing boxed water over bottled to offer your guests. However, reusable water bottles are the best option.
Designated Drinking Tumblers
For anyone who likes an ice-cold alcoholic beverage while cheering on their team, getting a drinking tumbler is a great way to minimize waste. Plus, they'll keep your drink cold even when it is warm outside.
Have an Eco-Friendly Holiday Season
The holidays are a great time to practice being more sustainable. So as you celebrate with friends and family, here are some easy ways to keep it green!
Swap Wrapping Paper for Gift Bags
Every year, approximately 227,000 miles worth of wrapping paper are thrown away during the holiday season. Unfortunately, almost all the wrapping paper isn't recyclable or reusable, so it will end up in landfills. We recommend finding eco-friendly wrapping paper or swapping it for reusable gift bags. Plus, saving your gift bags is an excellent idea if you need to give someone a last-minute gift.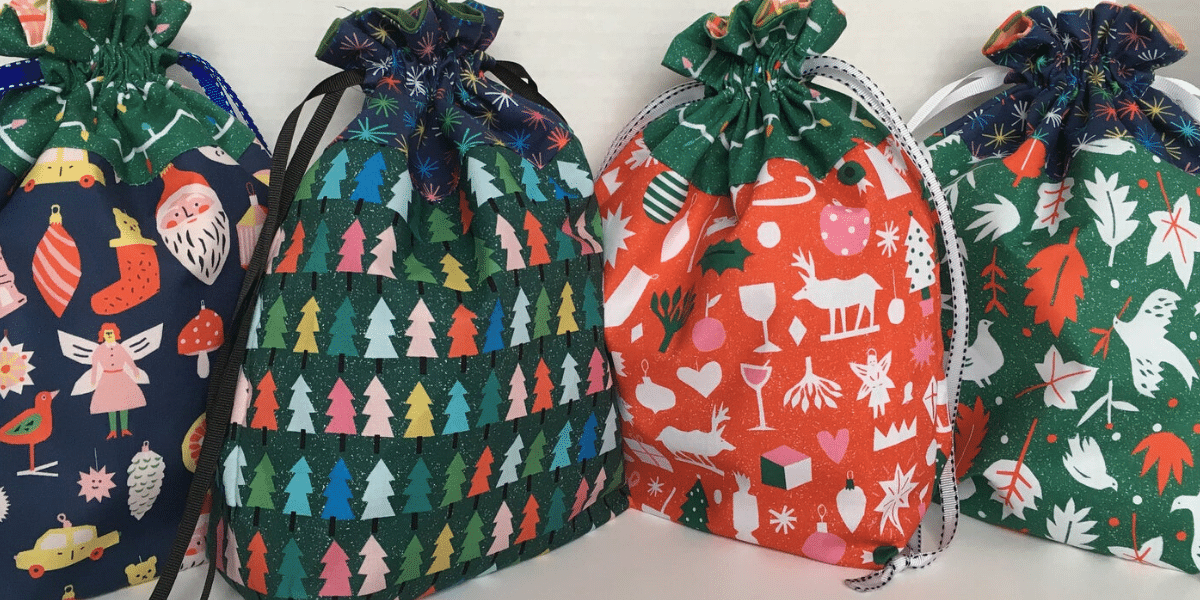 Buy Energy-Saving Holiday Lights
Holiday lights might make your house look magical but are a massive energy waste. We recommend buying energy-saving holiday lights so you can save energy and money this holiday season!
Offset Your Holiday Travel
If you have to travel to see your family this holiday season, we recommend offsetting the carbon emissions generated by your travel. There are several companies like Terrapass and Carbonfund that you can work with to offset your holiday travel!
Hire BARC for Zero Waste Events
BARC works with individuals, companies, and organizations to create zero-waste events of all sizes. If you are local to the Traverse City area, you can work with Bay Area Recycling for Communities to make your event zero waste. No event is too big or too small; we have you covered! To get started, fill out our Zero Waste Event Application Form.