Looking Back On 2021
Looking back on this year, BARC has been working hard to make sure recyclable materials are kept out of landfills. BARC is a great resource for home and business recycling. We also offer other recycling services, from electronics to mattress and refrigerator/freezer recycling, to more out-of-the-box services like deconstruction, composting, and so much more.
Let's talk about how our recycling efforts are helping locally with BARC and throughout the United States. When we work together we can actively make a difference in our community!
Since it's football season, let's see how many football fields (100 yards x 50 yards) of recycling BARC has done in 2021.
Recycling for Home & Business:
Recycling from home and work is a great first step in adopting a greener and more sustainable lifestyle. We are proud to serve these 6 counties in Northern Michigan: Grand Traverse, Kalkaska, Antrim, Leelanau, Benzie, and Manistee. By offering these services, we have kept 5,000 yards³ out of landfills by recycling, repurposing and composting the collected items.
To put this into perspective, that is the same amount as 1 football field stacked up 3 feet high! That is definitely an accomplishment to say the least.
Electronics Recycling:
Harmful chemicals are present in electronic waste, so it is crucial that it is disposed of and recycled correctly and safely. By offering recycling for your old, and most likely forgotten electronics, we are actively reducing our carbon footprint and repurposing the materials from them. Remember those large and bulky television sets? Rather than letting them collect dust in your garage or throwing them away, they can be recycled back into CRT glass to be re-used for other applications. The large LCD flatscreen TVs contain special fluorescent tubes in their screens, so they get recycled separately than the box televisions. This year BARC has successfully and safely recycled 6,000 television sets! 
Stack up all that Electronic waste and you can add another foot deep to the football fields worth of TV's, vacuums, Christmas tree lights, microwaves, printers, and, and, and…Well, you get the picture.
Refrigerator Recycling
Refrigerators, freezers, air conditioners, and dehumidifiers are pretty hard to recycle because they contain freon that needs to be handled professionally. We have the knowledge and tools to dispose of and recycle this properly. Freon is a significant environmental contaminant. When these items are disposed of incorrectly, the freon vaporizes into the air and it creates a chemical mixture that depletes the ozone. In 2021, we recycled more than 2,000 refrigerators and other freon related appliances.
Add another foot deep to the football field of recycling!
Mattress Recycling:
Mattresses are a hard item to recycle, at BARC we've developed an efficient process for disassembling them and recycling each type of material used. This year we have seen an uptick in mattress/box spring recycling pick-up. People really love our pick-up service for these bulky and hard to move items. In 2021 we recycled 12,500 mattresses. This is a tremendous amount of waste to keep out of Michigan landfills!
Mattresses average one cubic yard of landfill space per mattress, so let's add another 6 feet of depth to our football field grid iron!
Composting:
At BARC we collect compostable materials from a variety of sources from local restaurants and events to our annual leaf pick-up service. Bringing all of this together has allowed us to successfully compost over 600,000 pounds of organic material back into usable soil. Dump all that lovely food and carbon onto the football field, and you will have over 1,500 cubic yards of valuable organic material diverted from the landfill.
Our food waste is composted locally and is for sale by the bag or in bulk. Add another foot to our football field!
We are currently working to expand our composting service, so stay tuned for updates!
Zero Waste Events:
BARC's Zero Waste Event service aims to reduce the amount of waste that is generated by using a combination of services and products: compostable service ware, recycling, and composting.
Did you know that an average US wedding produces a massive 400 pounds of waste? Now think about how much waste a sizable festival creates. We apply our Zero Waste Event strategy to help produce weddings and festivals, like Bayshore Marathon, Cedar Polka Fest, Traverse City Film Fest, Empire Asparagus and Hops Festivals to name a few.
With COVID events being down by more than 50%, even so in 2021, we still helped create 23 Zero Waste Events! 
De/Re Construction:
In De/Re Construction, we had the privilege of deconstructing 7 large structures destined for the landfill in 2021. All in all, we recycled 7,900 square feet of buildings adding up almost 400,000 pounds of reclaimed lumber, furniture, and other construction materials. We also started our drop-off in Traverse City for reclaimed doors, windows, and previously used materials to reduce landfill demolition waste. Our goal is to put this material to use to combat the housing crisis and homelessness in our community by using these materials to reconstruct affordable homes.
Reach out to schedule a consultation or donation today!
Cubic yard-wise, BARC diverted about 100 cubic yards per 1,000 square feet, so add 800 cubic yards to that football field!
Repurposed Products:
Working in tandem with our de-construction team, we've created a line of repurposed products. Visit our online shop to view our offerings, you'll never know what you might find. These items include anything from tiny homes to flower pots and picnic tables, hunting blinds, and chicken coops. This project expanded BARC into our new Resale Store in 2021 located in Kaleva, MI.
Overall in 2021, BARC helped divert our 'football field' to a depth of 12 feet…more than 20,000 cubic yards total!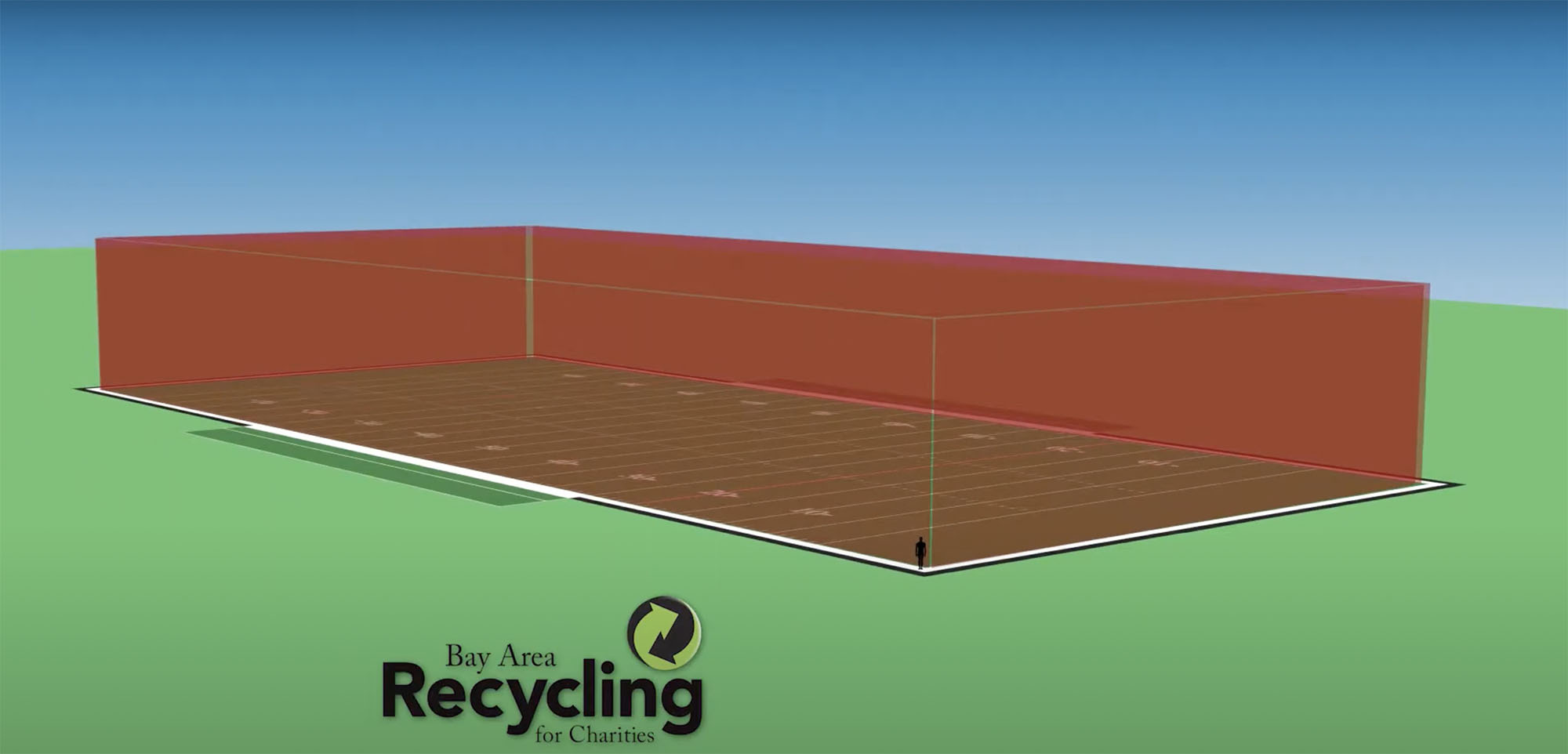 Thank you for helping us create a greener Michigan. When we work together, we can make things better and more sustainable. We hope you feel inspired by how much of an impact you can make in your local community and environment!