What Have We Been Up To?
A Note From Andy Gale
Just like the polar vortex likely interrupted your world, it introduced some hiccups in our world as well. Lately, we've been working to operate in this arctic tundra we call home. Since so much of our work relies on our trucks and trailers being in motion, harsh road conditions present some interesting challenges.
Luckily, BARC is known for navigating interesting challenges without missing a step. We have been busy finishing up the reconstruction of our Kaleva location, installing LED lights, insulation, plumbing, heating, etc. When weather warms up, we plan to give it our final touches and push for a May 31, 2019 grand re-opening!
Recently we worked closely with Pointes North Beachfront Hotel on their remodel. We removed 120 mattresses and helped them reinstall 120 mattresses. We had a great crew of 6 guys and 8 hours of work. This project was an example of our BARC crew's ingenuity and all-around awesomeness.
One of our key priorities this winter has been to develop a strong Waste-to-Value committee. If you are not familiar with the concept, Waste to Value is the means of taking the waste we generate and repurposing it to achieve its highest and best use. One of the committe's top priorities is to work closely with Michigan Tech to develop a plastics pyrolysis system that we can use to create waste to energy at our two recycling locations.
We've also spent time this winter pursuing Michigan Department of Environmental Quality (MDEQ) grants, including funding for expansion of our current composting, electronics recycling, and mattress recycling services.
Thank you for being part of our growth. Stay warm in these final winter weeks. We'll be back with another update in the spring.
Andy Gale
Founder 
Did you know?
---
Scheduling Special Recycling Pick Ups is Easier than Ever
If you have items you want to recycle, you can stop by our recycling center in Traverse City, OR we can come to you! We do pick ups on Fridays. Grand Traverse, Antrim, Kalkaska, Leelanau, Benzie, and Manistee counties. Simply fill out this form to schedule a pick up.  Once we get your request, we'll give you a call to give you a quote and discuss specific pick-up timing. Although we generally only do pick ups on Fridays, we are happy to work with you. Examples of items we pick up include: mattresses/box springs, large appliances, and electronics.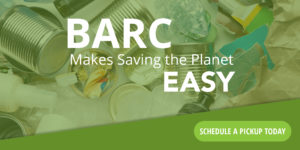 ---
Greener Year Challenge
Did you make a new year's resolutions this year? It's not too late. We're inviting you to join us in a new resolution each month. We broke our challenge up into manageable chunks, giving you one green focus area per month. We will support each other by sharing our experiences on social media with the hashtag #greeneryearchallenge. Plus, we will send updates and reminders throughout the year to keep you accountable. Check it out and jump in any time. Every little bit counts!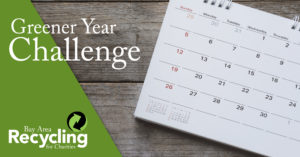 ---
Book a Special Event with BARC
Our new website makes it simple to use compostable products and our zero-waste bin stations at your event. Whether you're coordinating a large-scale festival or sporting event, or a wedding or another small gathering, we can help! Simply view our event options and pricing and enter your event details on the form on this page to get started.
---
Featured Partner:Big Brothers Big Sisters
Big Brothers Big Sisters of Northwestern Michigan's mission is to provide children facing adversity with strong and enduring, professionally supported 1-to1 relationships that change their lives for the better forever. Their vision is that all children achieve success in life. We love working with them, helping them host zero waste events and donating our services. We want to also give a shout out to Tony Anderson, general manager of the Cherryland Electric Service Cooperative and Big Brothers Big Sisters board member, for raising more than $400,000 in donations for the organization through his Marathon4Kids fundraising initiative. We encourage you to check it out and consider donating. Congratulations, Tony on your 2018 Distinguished Service Award from the Traverse City Area Chamber of Commerce!